More warehouse improvements at fish mart
Four new aquatic life support systems are fully operational and housing aquatic critters! For those of you familiar with ourfacility, the "middle room" was totally torn many happy fish and down and replaced withnew state-of the-art systems designed and installed by Pro Clear Aquatic Systems of Florida.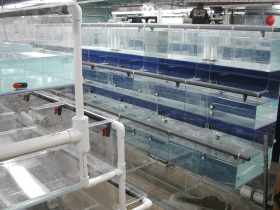 One 3,000+ gallon system is for our saltwater invertebrates. The other three systems - each containing about 3,500 gallons- are for both imported and domestic goldfish, including feeder comets and tuffies, as well as aquatic specialties (frogs, crabs, newts, snails, etc.). Chillers will be installed and utilized for feeders as appropriate. The filtration units themselves are incredibly efficient space-wise, allowing for more fish-holding cubicles, with sizes ranging from 12 to 60 inches in length.
"State-of- the-art" is always changing, and these systems have been refined to be the latest and greatest in keeping aquatics their healthiest. Come see for yourself these and all the other improvements we've been making here at Fish Mart over the last year or so!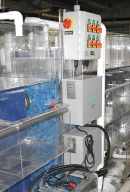 Control Panel and bio-filtration cylinder fit s efficiently in the middle of each rack.
Controls and indicators for all working components on the new systems
"State-of- the-art is always changing, and these systems have been refined to be the latest and greatest in keeping aquatics their healthiest."